This Fundraiser is a Win-Win for Everyone!
The Isaac has a new fundraising Program.
Would you be willing to Support The Isaac by taking part in this program if:
1. It won't cost you a penny out of your own Pocket
2. It will lower your monthly bills and SAVE you Money.
3. It will PAY you to share this program with others.
OUR CAUSES
We help the children of our deceased Co-Workers to get their education. Now we need your help to continue this.
A Hundred Years From Now it will not matter what your bank account was, the sort of house you lived in, or the kind of car you drove…But the world may be different because you were important in the life of a Child.
Thank You From Our Board and Our 26 Kids for participating in the Isaac Pedroza Memorial Foundation Eagles Raffle.
The Isaac is Proud to announce the 2022 Isaac Pedroza Memorial Foundation Scholarship winners.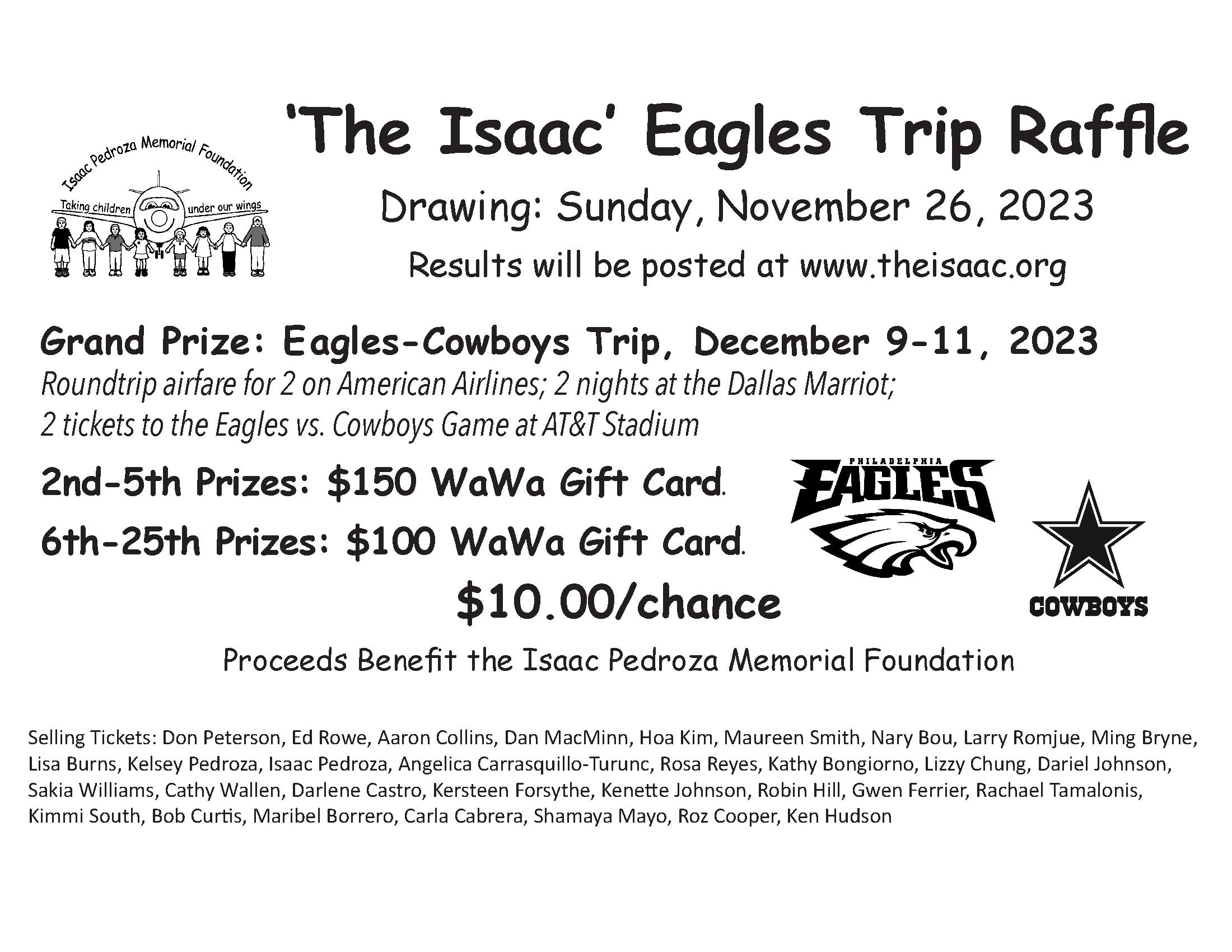 Winner's List !!
Grand Prize Trip to Dallas: Robert Thomas.
$150 WaWa Gift Card: Charles Cooper Sr, Peter Sycz, Scott DuAime, Gina Caridi
$100 WaWa Gift Card: Hoa Kim, Boyd Moser, Rosalind Cooper, Brittney Venson, Tina Orner, Karen Pollag, Mike Maggioncalda, John Seay, Joseph Lentier, Steve Kusner, Keith Sprowl, Stephanie Kershaw, Kirsten Brits, Katie Burke, Dave, Dave Thompson, Sandra Cain, Jackie McAndrew, George Pressley and Paul Andrews.